NAS Oceana 2023 Air Show Performers & Statics
Stay tuned, we will continue to add more amazing performers!
Last updated on Tuesday, May 9, 2023.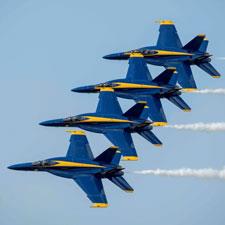 The U.S. Navy Blue Angels
The Blue Angels will return to the 2023 NAS Oceana Air Show to showcase the teamwork and professionalism of the United States Navy and Marine Corps, while inspiring a culture of excellence and service to the community. A Blue Angels flight demonstration exhibits choreographed refinements of skills possessed by all naval aviators. It includes the graceful aerobatic maneuvers of the four-plane Diamond Formation, in concert with the fast-paced, high-performance maneuvers of its two Solo Pilots. Finally, the team illustrates the pinnacle of precision flying, performing maneuvers locked as a unit in the renowned, six-jet Delta Formation. It's easy to see why their performances attract millions of spectators during air shows each year!

www.blueangels.navy.mil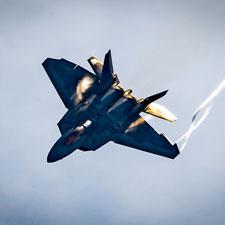 F-22 Raptor Demonstration Team
This year, we are thrilled to welcome back the F-22 Raptor Demonstration Team, stationed at Joint Base Langley-Eustis in Hampton, Virginia. Get ready to witness 43,340 pounds of advanced air superiority and supermaneuvrability of the F-22 Raptor, executing complex tactical maneuvers beyond the capabilities of any other fighter aircraft. You won't want to miss this display of the most dominant fighter in the world!
https://www.jble.af.mil/About-Us/Units/Langley-AFB/F-22-Demo-Team/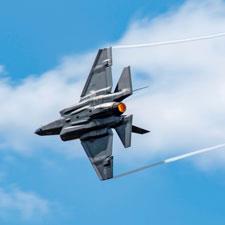 F-35C II Lightning Demonstration Team
We are proud to welcome the F-35C Lightning II Demonstration team back to the NAS Oceana Air Show this year to perform a variety of aerial maneuvers in the Navy's newest fighter and it's only 5th generation stealth aircraft. The pilots and aircraft from the VFA-125 "Rough Raiders," stationed at NAS Lemoore, Calif., will provide just a glimpse of the incredible flying characteristics and power of this mighty machine, while showcasing the advanced training taught to every Navy and Marine Corps Aviator to fly the F-35C.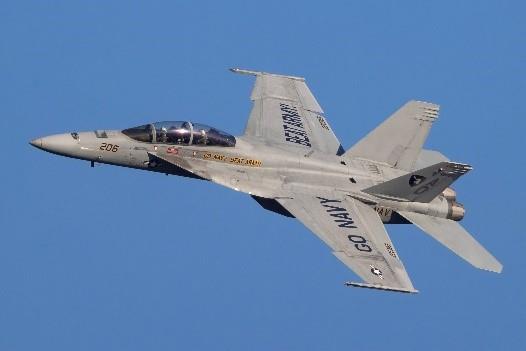 F/A-18F Rhino Demo Team
NAS Oceana's very own Rhino Demo Team will be back to perform heart-stopping maneuvers in the Navy's high performance, twin-engine, carrier-capable, multirole fighter aircraft, the F/A-18 Super Hornet. Hailing from VFA-106, the "Gladiators," Lt Ryan "Peaches" Garcia and LT Tyler "Spud" Sposato demonstrate the supreme capabilities of the mighty Super Hornet, which has earned a reputation as the backbone of the Navy's carrier air wing and a workhorse within the fleet.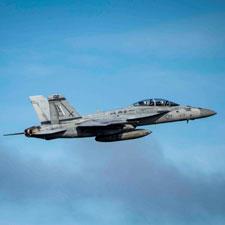 Air Power Demonstration
Watch as Oceana-based Strike Fighter aircraft demonstrate the maneuvers and tactics used to deliver air-to-ground weapons in real-world combat operations. F/A-18 E/F Super Hornets will fill the skies and crisscross in front of the crowd as they aggressively maneuver for simulated weapons delivery solutions. These intrepid aviators will prove they've got "the right stuff" to deliver diplomacy, 500 pounds at a time!
The Fleet Flyby
Make sure you have your cameras ready for this signature NAS Oceana Air Show performance! The sky will darken when this "aluminum overcast" passes over the crowd as locally based squadrons show their colors. The number and type of aircraft that participate is different every year, so you'll just have to wait and see how loud the "sound of freedom" will be!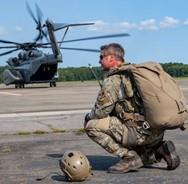 U.S. Navy EOD Jump Team
We are pleased to welcome Explosive Ordnance Disposal (EOD) jumpers back to NAS Oceana to demonstrate the professionalism and precision of one of the Navy's most elite communities. EOD personnel are highly trained, skilled technicians who can handle chemical, biological and radiological threats. Tasked with protecting and saving lives around the world, they are the U.S. military's only EOD force that can both parachute from the air to reach distant targets, and dive under the sea to disarm weapons. Join us on the flight line to see these true professionals jump in full kit!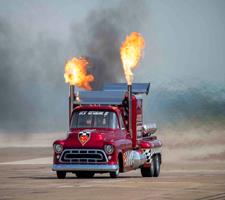 HOT STREAK II Jet Truck
Darnell Racing returns to NAS Oceana in their third decade in the air show business, and we can't wait to welcome them back! They'll be bringing Hot Streak II, a twin jet engine 57 Chevy Pickup capable of speeds of 350+MPH entertaining fans across the country for over 20 years. Hot Streak has two Westinghouse J34's engines, rescued from a Navy T-2A Buckeye jet training aircraft. It boasts 25,000 horsepower and produces 12,500 pounds of thrust in afterburner! Hot Streak II burns 150 gallons of diesel in a single run, hitting a speed of 350 mph, with enough acceleration to reach 220 mph in the first quarter mile! You will NOT want to miss the smoke, heat, and thunder of HOT STREAK II!!
https://www.shockwavejettruck.com/index.php