NAS Oceana Air Show 2019 Performers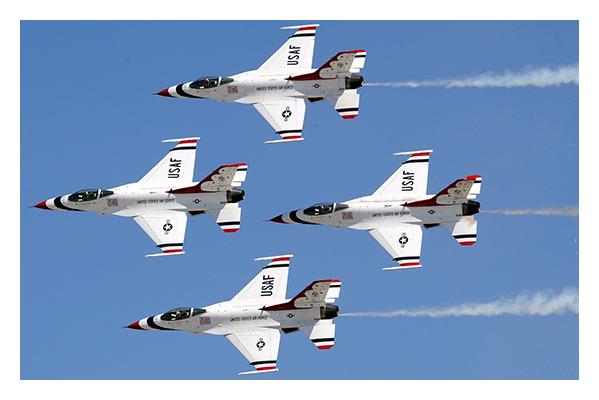 The U.S. Air Force Thunderbirds (http://afthunderbirds.com)
The squadron's mission is to plan and present precision aerial maneuvers to exhibit the capabilities of modern, high-performance aircraft and the high degree of professional skill required to operate those aircraft. The Thunderbirds squadron is an Air Combat Command unit composed of eight pilots (including six demonstration pilots), four support officers, four civilians and more than 100 enlisted personnel performing in almost 30 job specialties. A Thunderbirds air demonstration is a mix of formation flying and solo routines. The four-jet diamond formation demonstrates the training and precision of Air Force pilots, while the lead and opposing solo aircraft highlight some of the maximum capabilities of the F-16 Fighting Falcon. The pilots perform approximately 40 maneuvers in a demonstration. The entire show, including the ground show and air demonstration, lasts about 75 minutes. The season typically starts in March and ends in November, with the winter months used to train new members. Officers serve a two-year assignment with the squadron, while enlisted personnel serve three to four. More than 280 million people in all 50 states and 57 foreign countries have seen the red, white and blue Thunderbirds jets in more than 3,500 aerial demonstrations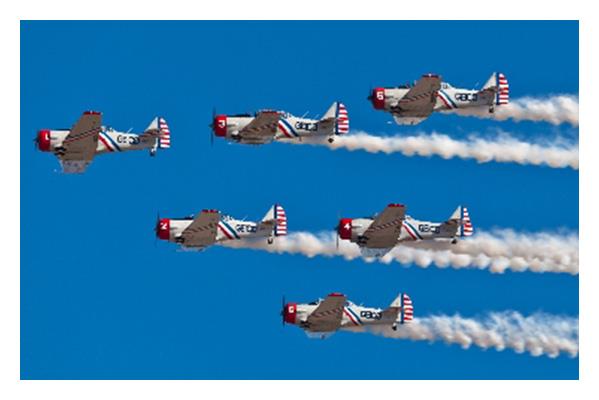 GEICO Skytypers (http://www.geicoskytypers.com)
The GEICO Skytypers are a flying unit based in Long Island, New York. The team is comprised of 10 pilots who the only flying unit in the world to type giant skytyped messages AND perform in air shows across the United States. The aircraft used by the GEICO Skytypers are the North American SNJ-2s originally built in 1940 and 1941 during World War II. Called the T-6 Texan by the Army Air Corps, the Harvard by the RAF, and affectionately known as "The Pilot Maker" by its crews, the SNJ was designed to transition from basic trainers to first-line tactical aircraft. The planes have been fully restored and specially equipped with modifications for skytyping missions. The Skytypers perform a low-level, precision flying demonstration that has thrilled spectators all over the United States. The demonstration features maneuvers and formations utilized during WWII. Through expert energy management and steady hands, these expert pilots extract every ounce of performance possible from these wonderful WWII antique aircraft.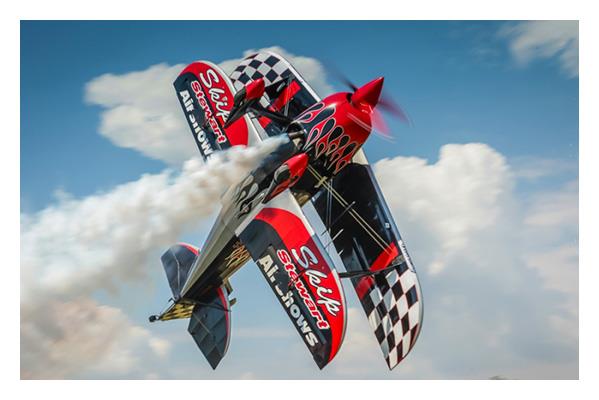 Skip Stewart (http://www.prometheusbiplane.com)
Skip Stewart is best known for his high-energy aerobatics routine, which includes very low and slow knife-edge passes. His performances most often involve transitioning into slow knife-edge flight immediately after takeoff, followed by an outside-banked turn as he sets up for his routine. The performances themselves involve extreme positive and negative G maneuvers, utilizing the full performance and maneuvering envelopes of his aircraft. He is known for performing a double ribbon-cut, in which he slices the first (upper) ribbon with his aircraft's vertical tail while in inverted flight, and the second (lower) ribbon with his lower wing while in sustained knife-edge flight. Stewart's showmanship typically continues till the very end of his performances, as he lands on one wheel, and then performs smoking doughnuts on the taxiway. In addition to his airshow routines, Stewart makes it a point to make himself available to airshow fans and enthusiasts, and enjoys interacting with the crowd. He trains hard in order to maintain the physical fitness required to withstand the intense stress of high-G flight. Even though he jokingly refers to himself as "Piloto Loco", he emphasizes that safety is always the first priority, and must be balanced with entertainment.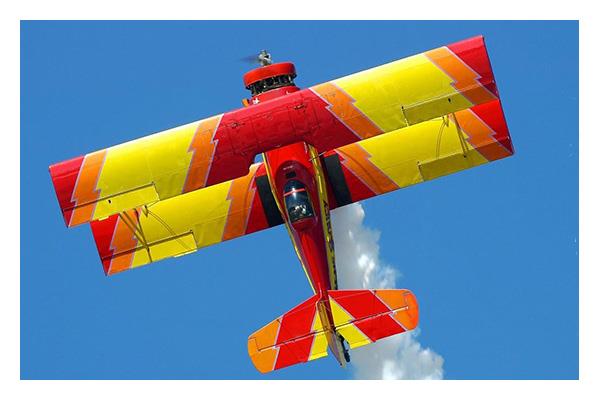 Gene Soucy (http://www.genesoucy.com/index.htm)
Gene Soucy is one of the most well-respected and proficient airshow pilots in American aviation. He is a former member of the record-setting Eagles Aerobatic Flight Team, he has been a member of two World Champion U.S. Aerobatic Teams, and he has won more awards than any other active airshow pilot. Innovation and versatility are Gene Soucy's style. It is no wonder as to why he has rightfully been nicknamed "Mr. Airshow." In 1988, Gene looked to be unique once again and began developing a new airshow airplane for his performances. What he came up with was the "Showcat." By extensively modifying a Grumman Ag Cat, a bi-plane traditionally used for crop spraying, Gene emerged with a tremendous airplane built for the rigors of one of the most unbelievable solo act of smoke and noise ever to reach the skies.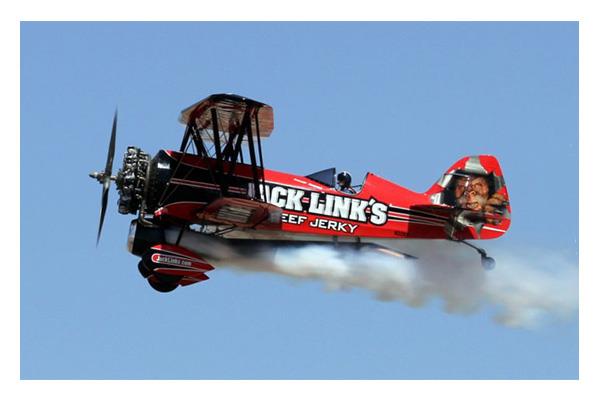 John Klatt, Lt. Col (Ret.) (http://johnklattairshows.com)
As a young child growing up in Eagan, Minnesota, John Klatt dreamed of flying, and his favorite pastime was listening to his father, an aircraft mechanic, tell aviation stories. His first "hands-on" experience in the aviation industry was washing airplanes and pumping gas to earn enough money for flying lessons. John received his private pilot ratings in 1986, and began flying a Taylorcraft L2-A by the time he was 18 years old. Today, he is recognized as one of the world's top aerobatic pilots, having performed in over 300 airshows throughout the past 15 years. John graduated from the University of Minnesota-Duluth in 1989, with a degree in Communications, and was commissioned as a second lieutenant in the Minnesota Air National Guard. As a proud member of the 133rd Airlift Wing, John flew the huge C-130 Hercules military transport delivering crucial supplies during Operation Restore Hope. He later transitioned to the F-16 Fighting Falcon and completed three combat tours in Iraq in support of the Global War on Terrorism. Lieutenant Colonel Klatt has logged more than 2,000 hours at the controls of the F-16. Simultaneous to his military career, John began the long and difficult journey to become a professional aerobatic performer. The high degree of skill, concentration, and mental toughness required in this profession drew him to the world of aerobatics. He succeeded in his quest, and began performing in airshows in 1999. His presence, experience, and reputation in is unparalleled, and well known throughout the airshow industry.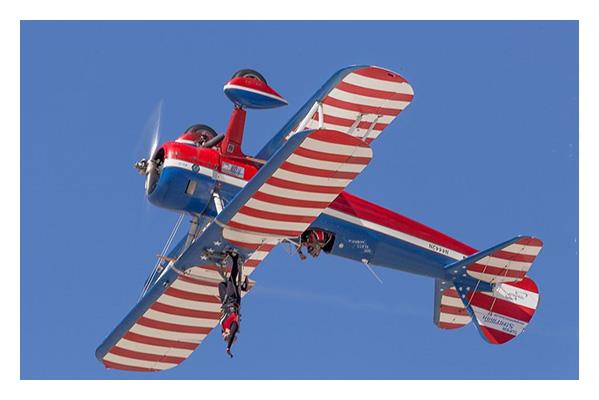 Greg & Ashley Shelton (http://www.gregsheltonairshows.com)
Greg began flying lessons in a Piper J-3 Cub in 1982. Before he finished his pilot's license he traded the J-3 Cub for a Starduster Too so he could pursue aerobatics. Greg performed at air shows in the AT-6 from 1990 until 2006. And in that same time period, Greg also performed in a Yak 52 for one year and a Yak 55 for ten years. In 2003, he decided to add a wing walking act to his growing list of air show performances. He purchased a 450 Super Stearman painted in patriotic colors of red, white, and blue.
Ashley Shelton was born and raised in Tulsa, Oklahoma. Her passion for aviation started at an early age building and flying model airplanes with her father. After high school went on to complete her Associate's Degree in Air Traffic Control back home in Tulsa. Still wanting to pursue an opportunity to serve her community, Ashley took a position as a police officer at Tulsa International Airport, graduating from the Oklahoma Police Academy in 2013. She worked at the airport as an Airfield Operations supervisor for 4 years. Ashley is a private pilot and is currently training for additional ratings and building time to pursue flying as a career. She completed her first solo in a Cessna 172 and currently owns and flies her 1946 Piper J-3 Cub and her 1946 Funk. She feels there is no greater feeling than being a tailwheel pilot!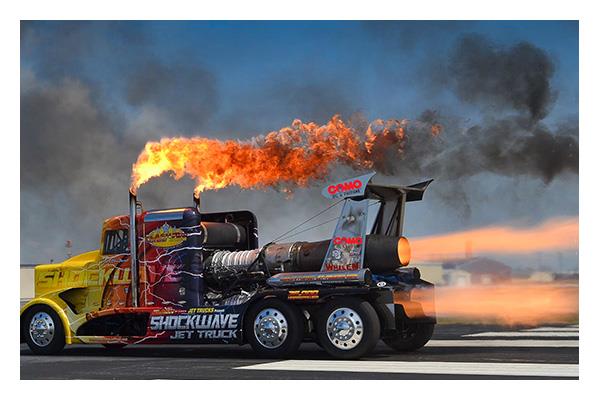 The Shockwave Jet Truck / Darnell Racing Enterprises (http://flashfirejettrucks.com)
He's baaaaaaaack!!!! When Les Shockley created the Shockwave Jet Truck in 1984 he had no idea the major impact this Triple Jet Engine Monster would have on not only the Drag Racing World but also the Air Show industry. Shockwave has literally become a national icon. We have many fans who say they saw this truck perform when they were kids. As a matter of fact Chris Darnell, who shares the driving responsibilities with his Dad, Neal, got to ride in Shockwave at the young age of seven years, and now he's in the driver's seat … a dream come true for him. With Darnell Racing Enterprises acquisition and rebuild of the famous Shockwave Jet Truck, NAS Oceana is truly excited to bring this awesome display back to Hampton Roads!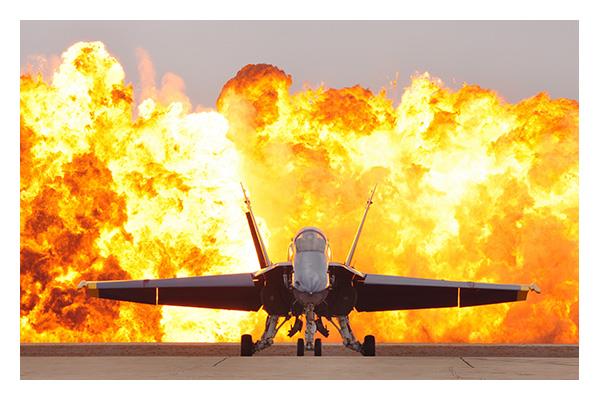 Firewalkers International (http://firewalkersinternationa.com)
Firewalkers International LLC was established in 2013 as the newest Air Show Pyrotechnics Team on the Air Show scene. While being a new team, its' members have a long history and many years of experience providing exciting, loud, HOT and safe Pyrotechnic shows both nationally and worldwide. As former members of Rich's Incredible Pyro, team members have worked closely with some of the most exciting civilian flight demonstration teams, ground shows and military teams from virtually every branch of the service, foreign and domestic. Through the use of high explosives, flammable fuels, and fireworks, the team produces stunning displays choreographed perfectly with flight teams and ground performers with earth shaking high energy results, all in a safe and precisely controlled professional show.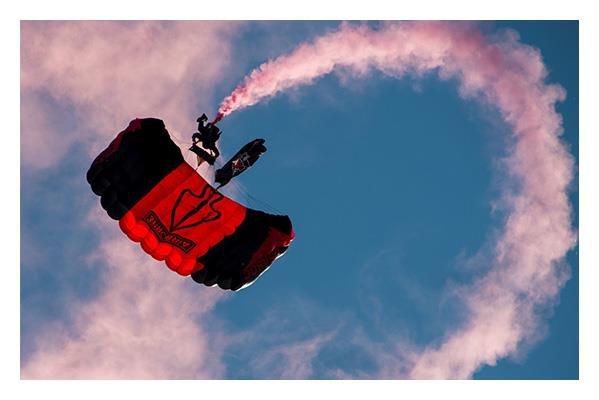 Black Daggers U.S. Army Parachute Team (https://www.facebook.com/blackdaggers)
Their mission is to perform live aerial demonstrations in support of Army special operations community relations and recruiting. Composed of volunteers from throughout Army special operations, the Black Daggers have diverse backgrounds and are skilled in various military specialties including Special Forces, Rangers, civil affairs, psychological operations, and signal and support. With an average age of 33 and an average number of free-fall jumps at 560, the team represents the professionalism and dedication of Army special operations forces.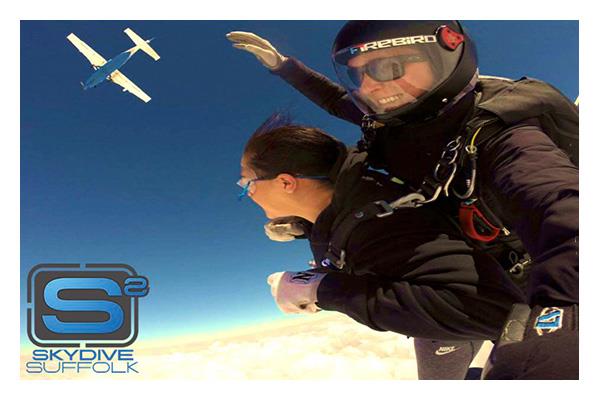 Skydive Suffolk (http://www.skydivesuffolk.com)
Skydive Suffolk is the premier skydiving center in the Virginia Beach area and has been in operation since 1960. The skydiving center is owned and operated by retired Navy EODC Mike Manthey. Skydive Suffolk offers tandem skydives, skydiving lessons, and jumping for experienced licensed skydivers, and is a USPA (United States Parachute Association) Group Member, pledging to adhere to the USPA's Basic Safety Requirements for students and advanced skydivers. In addition to civilian skydiving activities, the facilities at Skydive Suffolk also support skydiving training operations for multiple branches of the United States Armed Forces. Skydive Suffolk and their team of expert parachutist will be performing several Flag Jumps during the show as well as the thrilling Team Suffolk jump, executing precision parachute maneuvers and high energy "swoops" for the crowd.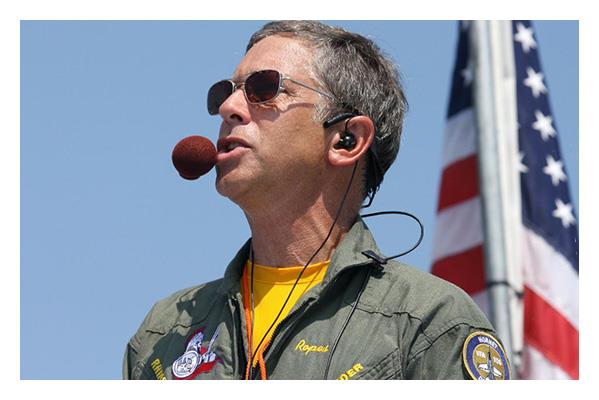 Rob Reider (http://www.robreider.com)
Rob Reider has announced some of the greatest aerial events in North America and loves to share the joy and freedom of flight with all who attend these shows. Rob is a multi-talented air show entertainer, pilot, Midwest television personality, singer, performer, writer, and winner of 5 Emmy awards. All of his experience makes Rob one of the best known announcers in the air show industry. "Narrating a show is a wonderful opportunity to try to put an audience into the cockpit," says Rob "Besides, when I'm announcing, I have the best seat in the house!"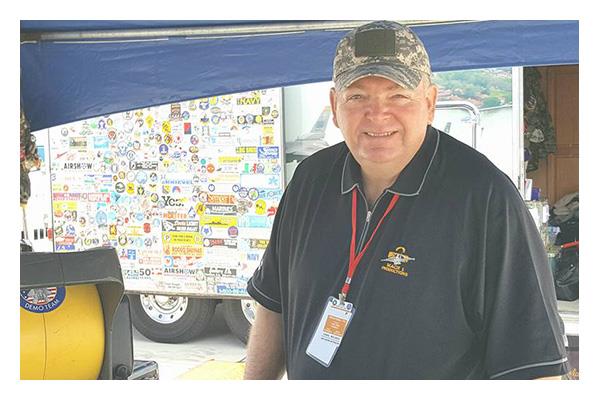 Dan McLaren & Mach 1 Productions (http://www.danmclaren.com)
Since 1988, Mach 1 Productions has provided support for North American Air Show and other special events. Their specially designed sound system provides crisp, clear sound for up to a mile of crowd line. Take your spectators into the cockpit of the aircraft with the air-to-ground interface that allows the performers to talk to the crowd and be heard as though they were listening on the intercom in the back seat.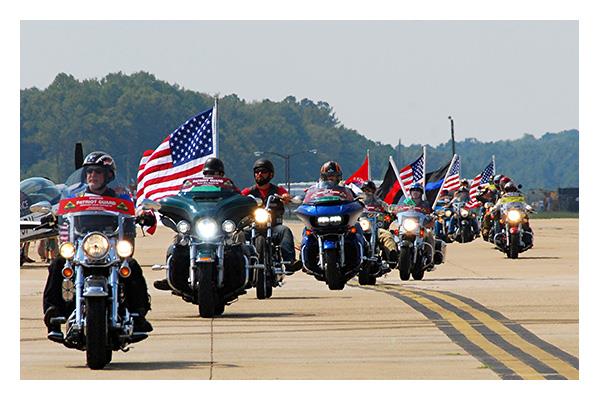 Virginia Patriot Guard (http://www.virginiapatriotguard.org)
The Virginia Patriot Guard is a diverse group of riders and individuals with one thing in common: they all have tremendous respect for those who risk their lives every day, whether on American soil or abroad, in securing our nation's freedoms and liberties. We encourage those who share this respect to join us in support of all those who have served. Virginia Patriot Guard welcomes those who do not ride motorcycles, those who are not veterans, and those who come from different states. We only require - Respect.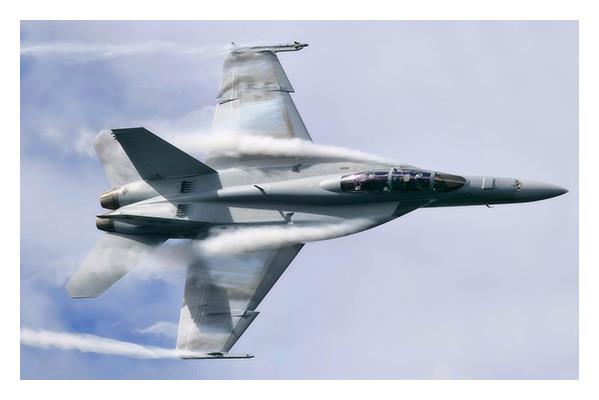 F/A-18F Super Hornet
The Super Hornet Tactical Demonstration, or "Tacdemo" is rapidly becoming world renowned as an awesome display of thrilling high-speed, high "G" maneuvers coupled with heart-stopping slow-speed performance. The crew from the VFA-106 Gladiators will fly this two-seat Strike Fighter as close to the "edge of the envelope" as safely possible while amazing even the most experienced aviators. The Tacdemo highlights the incredible power and grace of the Super Hornet, affectionately known as the "Rhino".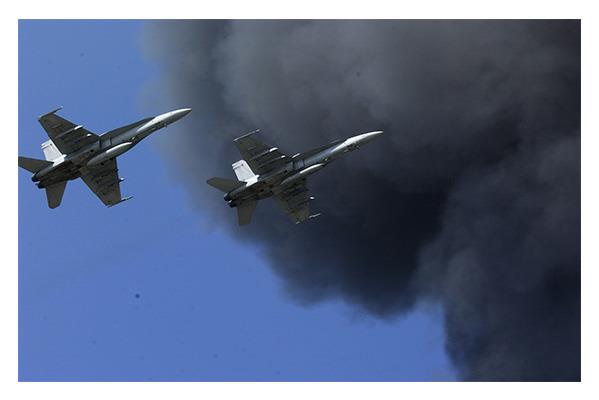 Air Power Demonstration
Watch as Oceana-based Strike Fighter aircraft demonstrate the maneuvers and tactics used to deliver air-to-ground weapons in real-world combat operations. F/A-18C Hornets and F/A-18E/F Super Hornets will fill the skies and crisscross in front of the crowd and they aggressively maneuver for simulated weapons delivery solutions. Twisting and turning to get "pipper on", these intrepid aviators will prove they've got "the right stuff" to deliver diplomacy, 500 pounds at a time!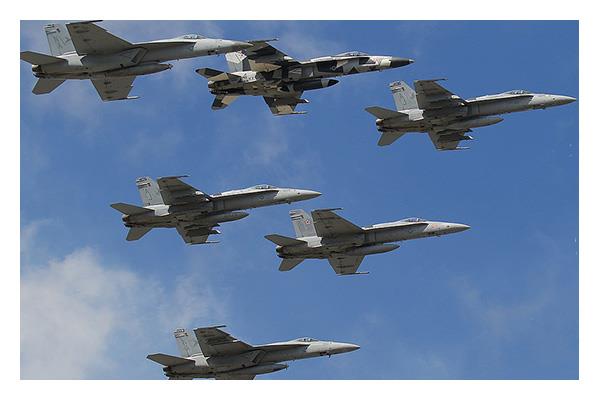 The Fleet Flyby
Make sure you have your cameras ready for this signature Oceana Air Show event! The sky will darken when this "aluminum overcast" passes over the crowd as locally based squadrons show their colors. The number and type of aircraft that participate is different every year, so you'll just have to wait and see how loud the "sound of freedom" will be!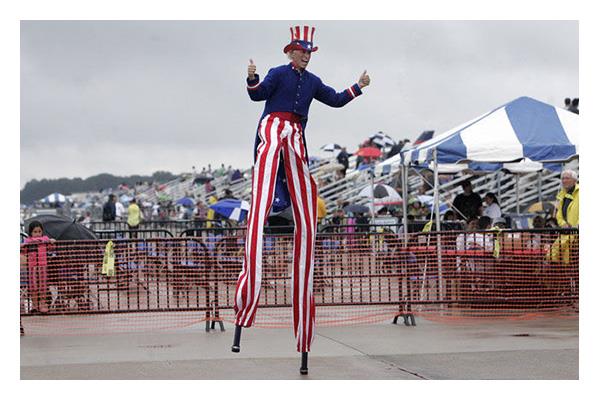 Steve Myott; Uncle Sam on Stilts
Mr. Steve Myott will perform during Saturday and Sundays shows and entertain children and adults alike as he mixes and mingles with the crowd. Steve has appeared in the National Independence Day Parade in Washington D.C, NFL pre-game shows and countless festivals as Uncle Sam on Stilts. As a drama teacher, actor and director he incorporates all his unique talents into theatrical mentoring for young people. Make sure you wave and say hello to this remarkable performer.