NAS Oceana 2022 Air Show Performers & Statics
Stay tuned, we will continue to add more amazing performers!
Last updated on Wednesday, August 11, 2022.
The U.S. Navy Blue Angels
The Blue Angels' mission is to enhance Navy and Marine Corps recruiting efforts and to represent the naval service to the United States, its elected leadership and foreign nations. The Blue Angels serve as positive role models and goodwill ambassadors for the U. S. Navy and Marine Corps. A Blue Angels flight demonstration exhibits choreographed refinements of skills possessed by all naval aviators. It includes the graceful aerobatic maneuvers of the four-plane Diamond Formation, in concert with the fast-paced, high-performance maneuvers of its two Solo Pilots. Finally, the team illustrates the pinnacle of precision flying, performing maneuvers locked as a unit in the renowned, six-jet Delta Formation. Since its inception in 1946, the Blue Angels have performed for more than 427 million fans.

www.blueangels.navy.mil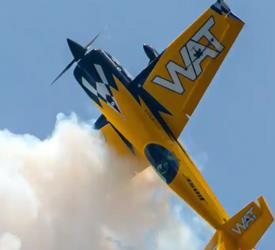 Mike Goulian
Pilot. Advocate. Athlete. Michael Goulian is one of North America's most decorated aerobatic pilots and recognized aviation professionals. Throughout his 30-year career, Goulian has devoted himself to excellence in the air, and in business. Growing up at his family's flight school, Michael learned at an early age those values that have defined his career; hard work, dedication and an unwavering focus on the pursuit of perfection. Michael Goulian is a multi-disciplined aerial demonstration pilot. Beginning his career in the competitive world of aerobatics, Goulian earned the distinction of becoming one of the youngest pilots to ever win the United States Unlimited Aerobatic Championship at the age of 27. His signature air show performance combines the heart-stopping gyroscopic tumbling of modern display flying with the crisp, aggressive, demands of precision competition aerobatics. In 2006, Goulian joined an elite group of pilots competing in the Red Bull Air Race World Championship. Competing as Team #99, Goulian and his team are engaged in a battle of technology, skill, and execution against 13 of the world's fiercest competitors.
www.mikegoulian.com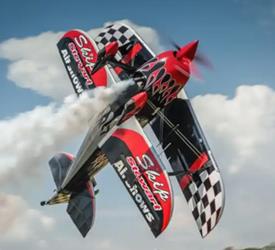 Skip Stewart
Skip Stewart is best known for his high-energy aerobatics routine, which includes very low and slow knife-edge passes. His performances most often involve transitioning into slow knife-edge flight immediately after takeoff, followed by an outside-banked turn as he sets up for his routine. The performances themselves involve extreme positive and negative G maneuvers, utilizing the full performance and maneuvering envelopes of his aircraft. He is known for performing a double ribbon-cut, in which he slices the first (upper) ribbon with his aircraft's vertical tail while in inverted flight, and the second (lower) ribbon with his lower wing while in sustained knife-edge flight. Stewart's showmanship typically continues till the very end of his performances, as he lands on one wheel, and then performs smoking doughnuts on the taxiway. In addition to his airshow routines, Stewart makes it a point to make himself available to airshow fans and enthusiasts, and enjoys interacting with the crowd. He trains hard in order to maintain the physical fitness required to withstand the intense stress of high-G flight. Even though he jokingly refers to himself as "Piloto Loco", he emphasizes that safety is always the first priority, and must be balanced with entertainment.
www.prometheusbiplane.com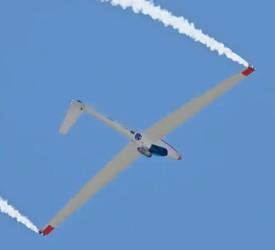 Bob Carlton / Vertigo Air Shows
Bob began flying in 1979 at the age of 19. He has since logged over 2000 hours in a wide variety of aircraft and holds a commercial pilot certificate. Bob has flown hang gliders, airplanes, helicopters, and sailplanes from hundreds of sites in the US, Canada, Mexico and Australia. Bob has flown airshows professionally since 1993. He lives in Albuquerque, New Mexico with his wife Laurie and their two dogs, Elsa and Cinco. Bob is one of the most versatile airshow performers in North America. He began flying airshows in his Salto sailplane, and over the years has continued to add innovative performances such as barnstormin' biplane aerobatics, helicopter sailplane tow, night aerobatics with strobes & pyro and the world's only twin jet sailplane. The tradition of innovation continues with the recent addition of the Super Salto jet sailplane, with more power, more speed and more aerobatic capability than any other sailplane on the planet! Bob is a retired rocket scientist for a major national laboratory.
www.vertigoairshows.com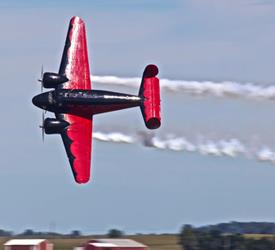 Matt Younkin
Matt Younkin is a third generation pilot. He is the son of Bobby Younkin who is considered to be one of the greatest airshow pilots of all time. Matt is also the grandson of Jim Younkin who is well-known for designing Century and Trutrak autopilots as well as building replicas of the 1930's Howard "Mr. Mulligan" and Travel Air "Mystery Ship" race planes. Matt learned to fly at the age of 14 in a Piper J-3 Cub. At age 15, the same instructor who taught Bobby how to fly, refined Matt's piloting skills. On his sixteenth birthday, Matt soloed his grandfather's 1928 Travel Air 4000 biplane. Matt to date has flown over 85 different types of airplanes ranging from the Piper Cub to the Boeing B-29. He is also a fully rated flight instructor, has over 5,000 hours of total flying time, and currently resides in Siloam Springs, AR. Matt spent his first couple of years in the industry performing at airshows in the Super Decathlon and in the world's only flying example of the Travel Air "Mystery Ship." At Sun n Fun 2007, Matt debut his version of the aerobatic act made famous by his father in the Beech 18. This act continues to be described by producers and fans alike as one of the most beautiful and graceful displays the industry has to offer.
www.younkinair.com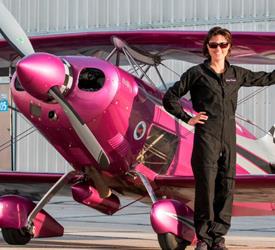 Jessy Panzer
We are very excited to welcome Jessy Panzer, a very accomplished aerobatic pilot to NAS Oceana. Jessy started flying when she was 18 years old and earned her aeronautical science degree from Embry-Riddle Aeronautical University. She is a CFI in airplanes, rotorcraft, and seaplanes. Though employed as a corporate pilot for most of her career, Jessy actively pursued her passion for aerobatics and began flying in competitions in 2000. In 2012 she made the U.S. Advanced Aerobatic Team. Jessy has also flown as a member of the Stars of Tomorrow formation aerobatic team and is a certified air racer in the Sport Class at Reno, flying a Glasair III. Jessy is honored to be flying her Pitts Special biplane, rated +6/-3 g's, and to be able to share her passion for flight with airshow fans across the country.
www.jessypanzer.com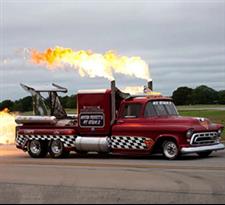 HOT STREAK II Jet Truck
Hot Streak II is a twin jet engine 57 Chevy Pickup capable of speeds of 350+MPH entertaining fans across the country for over 20 years. Hot Streak has two Westinghouse J34's engines, rescued from a Navy T-2A Buckeye jet training aircraft. It boasts 25,000 horsepower and produces 12,500 pounds of thrust in afterburner! Hot Streak II burns 150 gallons of diesel in a single run, hitting a speed of 350 mph, with enough acceleration to reach 220 mph in the first quarter mile! You will NOT want to miss the smoke and thunder of HOT STREAK II!!
www.smoke-n-thunder.com/jet-truck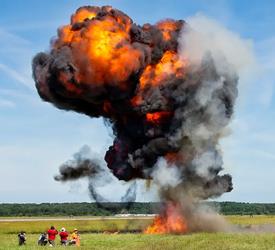 Firewalkers International
Firewalkers International LLC was established in 2013 as the newest Air Show Pyrotechnics Team on the Air Show scene. While being a new team, its' members have a long history and many years of experience providing exciting, loud, HOT and safe Pyrotechnic shows both nationally and worldwide. As former members of Rich's Incredible Pyro, team members have worked closely with some of the most exciting civilian flight demonstration teams, ground shows and military teams from virtually every branch of the service, foreign and domestic. Through the use of high explosives, flammable fuels, and fireworks, the team produces stunning displays choreographed perfectly with flight teams and ground performers with earth shaking high energy results, all in a safe and precisely controlled professional show.
www.firewalkersinternationa.com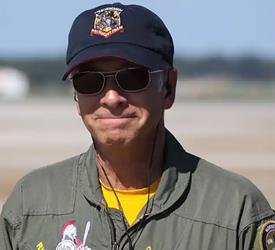 Rob Reider (Air Show Announcer)
Rob Reider is the most sought-after announcer on the North American Air Show circuit. His talents have earned him the highest award in the air show industry, the International Council of Air Shows "Sword of Excellence." A former midwest television personality, Rob received 5 Emmy awards for his on-air performance and musical compositions. His show business acumen, his encyclopedic aviation knowledge, his experience, and his excitement have put Rob Reider at the top of the list as the voice of many of the largest and most important air shows on the continent. NAS Oceana is proud to consider Rob Reider a member of the Air Show family.
www.robreider.com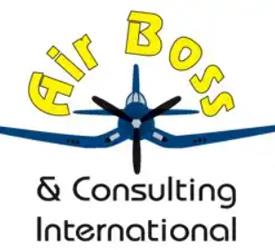 Air Boss & Consulting International
An Air Show Air Boss is the individual who has the primary responsibility for air show operations on the active taxiways, runways, and the surrounding air show demonstration area. For that reason, thier personal integrity, commitment to safety, and professional fortitude are the foundation on which a strong, safe, successful air show is built. The legendary Wayne Boggs is renowned as the best Air Boss in the business and NAS Oceana is honored to have Wayne and his team at the helm of the air show.
www.airbossconsulting.com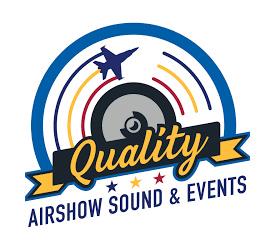 Quality Airshow Sound
Bill started at a young age in the audio-visual field. He served on the audio-visual club in middle school. At the age of 11, Bill started by helping his father work a part-time position at a local drive-in theatre as a projectionist. When his father decided to end his part-time job, Bill took over the job at age 13. When the regional manager saw Bill using a wooden coke crate to stand on to reach one of the tall (for a short 13-year-old) to place the film on the projectors, he was left speechless. Bill comes from a family of inventors his grandfather holds several patents for bowling machines (Troiano Ball Lift). His great grandfather holds a patent on the rubber heel shoe. Bill's love for flying led him to get his private pilot's license at his local airport. When asked to provide sound at the first airshow at Culpeper Regional Airport, Bill jumped at the opportunity. He has provided sound at the Culpeper Airfest for 20 years.
www.qualityairshowsound.com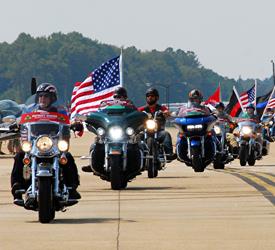 Virginia Patriot Guard
The Virginia Patriot Guard is a diverse group of riders and individuals with one thing in common: they all have tremendous respect for those who risk their lives every day, whether on American soil or abroad, in securing our nation's freedoms and liberties. We encourage those who share this respect to join us in support of all those who have served. Virginia Patriot Guard welcomes those who do not ride motorcycles, those who are not veterans, and those who come from different states. We only require - Respect.
www.virginiapatriotguard.org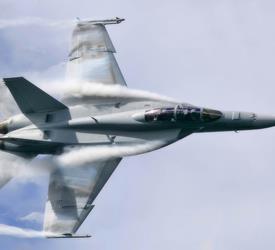 F/A-18F Super Hornet
The Super Hornet Tactical Demonstration, or "Tacdemo" is world renowned as an awesome display of thrilling high-speed, high "G" maneuvers coupled with heart-stopping slow-speed performance. The crew from the VFA-106 Gladiators will fly this two-seat Strike Fighter as close to the "edge of the envelope" as safely possible while amazing even the most experienced aviators. The Tacdemo highlights the incredible power and grace of the Super Hornet, affectionately known as the "Rhino".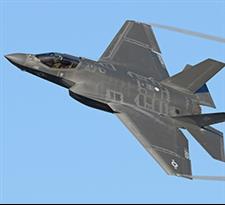 F-35C Lightning II Demonstration Team
This year will be the F-35C Lightning II Demo Team's first ever appearance at the NAS Oceana Air Show! The F-35C Lightning II Demonstration team performs a variety of aerial maneuvers in the Navy's newest fighter and it's only 5th generation stealth aircraft. The pilots and aircraft from the VFA-125 "Rough Raiders," stationed at NAS Lemoore, California, will provide just a glimpse of the incredible flying characteristics and power of this mighty machine, while showcasing the advanced training taught to every Navy and Marine Corps Aviator to fly the F-35C.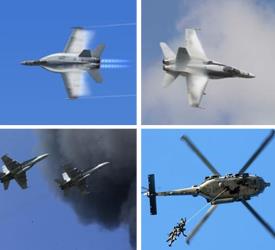 Air Power Demonstration
Watch as Oceana-based Strike Fighter aircraft demonstrate the maneuvers and tactics used to deliver air-to-ground weapons in real-world combat operations. F/A-18C Hornets and F/A-18E/F Super Hornets will fill the skies and crisscross in front of the crowd and they aggressively maneuver for simulated weapons delivery solutions. Twisting and turning to get "pipper on", these intrepid aviators will prove they've got "the right stuff" to deliver diplomacy, 500 pounds at a time!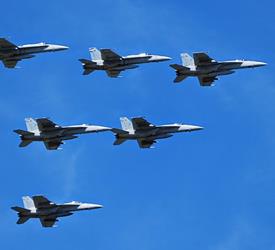 The Fleet Flyby
Make sure you have your cameras ready for this signature Oceana Air Show event! The sky will darken when this "aluminum overcast" passes over the crowd as locally based squadrons show their colors. The number and type of aircraft that participate is different every year, so you'll just have to wait and see how loud the "sound of freedom" will be!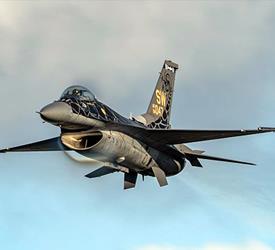 F-16 Fighting Falcon Demo
The Air Combat Command F-16 Viper Demonstration Team at Shaw AFB, S.C., performs precision aerial maneuvers to demonstrate the unique capabilities by one of the Air Force's premier multi-role fighters, the F-16 Fighting Falcon. The team also works with the Air Force Heritage flight, exhibiting the professional qualities the Air Force develops in the people who fly, maintain and support these aircraft.
www.acc.af.mil/Home/Aerial-Events/F16-Viper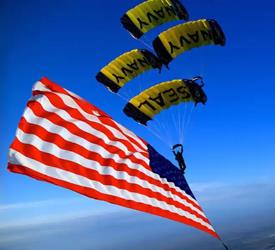 U.S. Navy Leap Frogs Parachute Team
Navy Leap Frogs don't make their daily commute in the driver's seat. Their day starts by jumping out of the back of an airplane at 12,000 feet. Since 1969, the Navy's official skydiving and parachute team has performed gravity-defying demonstrations across the country in a show of the Navy's exceptional skill. Every member of the team has joined this performance group after years of real-world special operations work. Comprised of active-duty Navy SEALs, Special Warfare Combatant-Craft Crewmen (SWCC), Divers (ND), Explosive Ordnance Disposal Technicians (EOD) and Aircrew Survival Equipmentmen (PR), the Leap Frogs demonstrate best-in-class training offered by Navy Special Warfare. For the Leap Frogs, every day is an adventure. These Sailors live to serve their country as warriors and are trained to think fast in situations where there's zero room for error. That's what makes them a perfect parachute team. During their Leap Frog tour, team members will travel across the country performing daring stunts from over two miles above the ground. Leap Frogs serve for three years on the team before returning to their operational units.
www.navyleapfrogs.com