General Air Show Information
Welcome!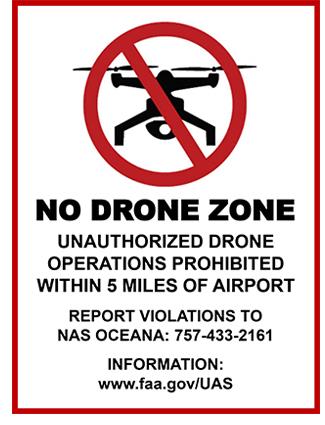 Naval Air Station Oceana is pleased to welcome you and your family to this action-packed event. The men and women of NAS Oceana pledge that we will do everything we can to make sure your visit to the East Coast's only Master Jet Base is safe and fun. Additionally, we will make every attempt to lessen delays while entering or leaving the Air Show.
Public Screening
Our primary goal is to ensure the safety of all visitors to NAS Oceana. In accordance with Department of Defense/Department of the Navy regulations and policy, all bags and hand-carried items are subject to search and inspection prior to entry onto the flight line. Additionally, all visitors are required to enter the flight line via walk-through metal detectors. All bags and hand-carried items will be run through X-ray scanners or visually searched/inspected inside and out to ensure the safety of all guests. Failure to comply with this inspection will result in denial of access to the air show ramp.
Oversized bags / Camera Bags & Equipment
Any bag too large to fit through the X-ray scanner will be visually searched/inspected inside and out by our security staff. While there is no size restriction on camera lenses, any camera lens over approximately 12 inches long will require visual inspection prior to authorization for entry. Photographers are authorized to assist our security personnel with the visual inspection of lenses over 12" to avoid potential damage to your equipment. Our security staff are in place to ensure the safety of all visitors so your cooperation with this process is greatly appreciated. Failure to comply with this inspection will result in denial of access to the air show ramp.
Prohibited Items
To keep delays to a minimum, remember that the following items are not permitted on to the flight line and may be confiscated:
Ice chests or coolers
Remote control aircraft, drones, balloons (flight safety issue)
All weapons (regardless of permit) including firearms, knives (including pocket knives and multi-tools), walking sticks (except for handicap use) and all other items that the security force deems dangerous. Any confiscated items will not be returned.
Food or beverages of any kind
Pets (other than service animals)
Glass containers
Bicycles, roller skates, roller blades or skateboards
Authorized Items
It is recommended that spectators minimize the number and size of authorized items to reduce the time required for inspection prior to access into the flight line area. The following items are permitted:
Cell phones, tablets and FRS transceivers (may be asked to turn off/on)
Handheld portable televisions, radios and scanners
Small fanny packs and purses
Cameras and camcorders (owners should not load film prior to entering the show area as they may be required to open all compartments at Security Checkpoints).
Camera Bags will be searched upon entry
Folding chairs and lawn chairs (chairs in bags subject to search)
Umbrellas and sunshades
Wheelchairs
Baby bags and strollers, if attending with an infant or small child (strollers are not permitted in the grandstand area; adjacent stroller parking is available).
Smoking (cigarettes and e-cigarettes): Smoking is not permitted anywhere on the flight line in the vicinity of aircraft, vendor tents or chalets. There is a smoking area designated by signage at the "back line" of the air show to the left of show center.
Notes
Unattended bags and packages will be removed from the premises
Neither strollers nor wheelchairs will be available for rent at the Air Show
Sun protection, including hat, long-sleeved shirts and long pants and sun screen are recommended
Water will be available throughout the Air Show area; bring an empty water bottle.
Wear comfortable footgear; the flight line is paved and you may walk long distances.
All vendor vehicles will be subject to search.
Food, Vendors & Entertainment
There will be a number of food and novelty vendors during the event along with entertaining activities for all ages to include a Kids Zone, STEM displays, Static displays and more. We are currently accepting food and vender applications. The deadline to apply is July 1, 2019.
And Finally……… Please keep in mind that your safety is our primary concern. Remember the following important safety tips:
Uniformed security personnel are there to help. Follow all instructions from uniformed security personnel.
Very few things on our flight line are soft to the touch; most things are made of metal and have lots of edges on them. Keep your eyes focused in the direction you're walking and be aware of low-hanging (and flying!) aircraft components.
Medical personnel are on call to render assistance to anyone that requires it. Notify any uniformed security person or air show worker if you or any member of your group requires medical attention.
Please call 433-3103 for emergency assistance, if needed.