2017 NAS Oceana Air Show Schedule of Events
---

Make sure you arrive early for the NAS Oceana Air Show this year! Gates open at 8:00 am and ADMISSION AND PARKING ARE FREE. The flight line will be packed with static displays, food & novelty vendors and plenty of other things for the whole family to enjoy the entire day. On both Saturday and Sunday, the flying will start at approximately 10:00 a.m. and the Blue Angels will perform at 3:00 p.m. See our performer page for a list and description of who is appearing at the show. We'll be working on the exact sequence of events over the next few months and should have a detailed performance schedule posted in early September, 2017.
Don't forget to mark your calendar for the Saturday evening Beach Blast at 31st Street, Virginia Beach Oceanfront, September 16th. This event is free and open to the public. The Beach Blast begins with a free concert at the 31st Street Stage at 6:30 p.m. staring the United States Fleet Forces Band, Four Star Edition playing the latest hits. Just as the sun is setting, a U.S. Navy F/A-18 Super Hornet will perform three AFTERBURNER FLYOVERS of the area to highlight the awesome power of Super Hornet. When the sun finally sets, our parachute team will perform a jump onto the beach and then once the jumpers have been presented to the crowd, the U.S. Navy Blue Angels will take the stage to introduce the 2017 Blue Angel team and then mix and mingle with the crowd. Music and entertainment continues until the event's conclusion at 9:30 p.m. Parking is available in the parking structure on the corner of 31st Street and Atlantic Avenue.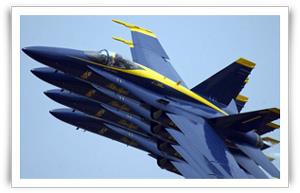 The U.S. Navy Blue Angels (http://www.blueangels.navy.mil)
The Blue Angels' mission is to enhance Navy and Marine Corps recruiting efforts and to represent the naval service to the United States, its elected leadership and foreign nations. The Blue Angels serve as positive role models and goodwill ambassadors for the U. S. Navy and Marine Corps. A Blue Angels flight demonstration exhibits choreographed refinements of skills possessed by all naval aviators. It includes the graceful aerobatic maneuvers of the four-plane Diamond Formation, in concert with the fast-paced, high-performance maneuvers of its two Solo Pilots. Finally, the team illustrates the pinnacle of precision flying, performing maneuvers locked as a unit in the renowned, six-jet Delta Formation. Since its inception in 1946, the Blue Angels have performed for more than 427 million fans.
Gene Soucy (http://www.genesoucy.com/index.htm)
Gene Soucy is one of the most well-respected and proficient airshow pilots in American aviation. He is a former member of the record-setting Eagles Aerobatic Flight Team, he has been a member of two World Champion U.S. Aerobatic Teams, and he has won more awards than any other active airshow pilot. Innovation and versatility are Gene Soucy's style. It is no wonder as to why he has rightfully been nicknamed "Mr. Airshow." In 1988, Gene looked to be unique once again and began developing a new airshow airplane for his performances. What he came up with was the "Showcat." By extensively modifying a Grumman Ag Cat, a bi-plane traditionally used for crop spraying, Gene emerged with a tremendous airplane built for the rigors of one of the most unbelievable solo act of smoke and noise ever to reach the skies.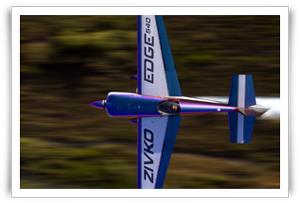 Bill Stein (http://www.billsteinairshows.com)
Bill Stein has logged over 5,000 hours of aerobatic and formation flight. Bill began flying aerobatics when he was still a student pilot and has been dedicated to perfecting his skills ever since. Since 1995 Bill has performed at air shows all across the United States and has entertained millions air show fans. Bill's passion for precision flying is evident in his dazzling air show routine. He trains every day so that his skills stay razor sharp, and to maintain the all-out energy and excitement he puts into his air show sequence. Bill's experience includes competitive aerobatics and years of flying on the world famous Red Baron Stearman Squadron. Bill also gives back to the air show community by mentoring new air show pilots including coaching the "Stars of Tomorrow" team which have performed at many prestigious air shows including the EAA AirVenture Air Show.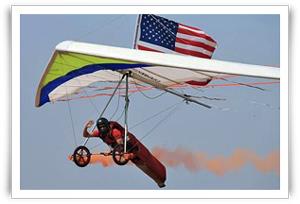 Dan Buchanan (https://www.danbuchananairshows.com)
Dan was a New York & Connecticut home builder and flat-track motorcycle racer; then moved to Lake Tahoe, CA where he enjoyed the thrill of flying off mountain tops. He was getting his Private Pilot License when in 1981, he had a spinal injury landing a hang glider in bad weather that he shouldn't have even been flying in. Losing his ability to walk, he returned to college to pursue a career in mechanical engineering, landing him in Silicon Valley, CA. Despite this new handicap, Dan returned to the thrill of flying within six months, and since then his tenacity and adventurous spirit has allowed him to accrue more than 3,000 hours of flight time in Hang Gliders and Sailplanes. After his first air show performance at Medford, OR in 1989, his appearances increased each year, and now he shares his thrill of flight with millions of people around the world during his annual 25+ city Airshow tour, driving 45,000+ miles each summer.
Eugene Nock's Batcopter (http://www.nockworldentertainment.com/air_shows)
This is N3079G The Original BATCOPTER from the TV Series BATMAN! N3079G is the authentic Crime Fighting Helicopter that flew and was filmed in the original 1966 Batman movie and the original Batman TV Series. Today, Captain Eugene A. Nock has fully restored this nostalgic flying machine back to complete airworthy condition. Captain Nock will also be showing off his vintage Batmobile from the original TV series. You won't want to miss this once-in-a-lifetime opportunity to see these magnificent and historic machines!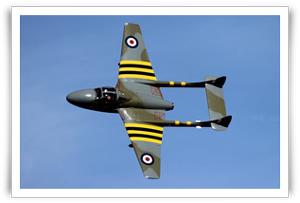 Jerry Conley's Vampire (https://vampireairshows.simdif.com/index.html)
Jerry Conley is the president of Vampire Aviation, LLC. and chief pilot. Jerry's flying career started at eight years old when he got a kids book titled "Jerry the Jet" and the rest is history. Vampire Airshows mission is about the merging of entertainment and education. The Vampire is unique to the Airshow circuit and brings speed, noise, jet warbird aerobatics, and a profile that grabs the attention of the audience. The aircraft is fully aerobatic performing rolls, Cuban eights, Shark tooths, inverted flight, high speed passes, and all with a killer smoke system. The Vampire, being the Beginning of ALL modern jet aviation, is a truly inspiring aircraft.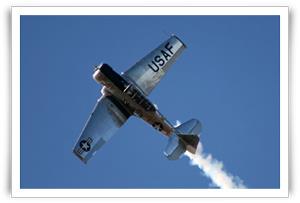 Bill Leff (http://www.billleffairshows.com)
Bill excites the crowd with the roar of the radial engine, the flash of the sun off the polished aluminum surface and the volume of smoke coming off the engine as he does precision aerobatics, staying show center all the time. Like no other WarBird act, Bill keeps it close in and non-stop. It all starts with the roar of the Pratt and Whitney engine as Bill lifts off the runway and does a roll on take-off. Thirteen minutes of low-level aerobatics follow including barrel rolls, inverted flight, loops, four point rolls, and Cuban 8s. Bill explores the airspeed envelope of the T-6 from over 200 MPH to as slow as 60 MPH, thrilling both the novice and enthusiast alike.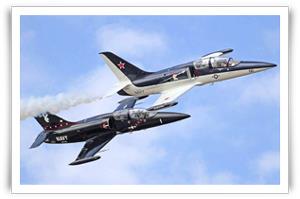 Warrior Flight Team (http://www.warriorflightcharity.org)
Warrior Flight Team (WFT), reaches out to wounded soldiers and their families through numerous support groups and veterans organizations, and invites those who have served and sacrificed so much to meet the team. These get-togethers are centered around large, well-attended events such as fundraisers, airshows, and sporting contests. The WFT honors these warriors and their families with a truly unique experience and unparalleled hospitality and camaraderie. It's a time for relaxation as well as reflection on the price many pay for serving in the armed forces. In front of millions of people annually, the team has the chance to promote the Warrior Flight Team programs as the soldiers are honored publically.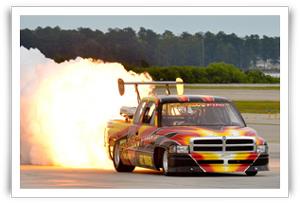 Flashfire Dodge Jet Truck / Darnell Racing Enterprises (http://flashfirejettrucks.com)
Chris is the Driver/Pilot of the Flash Fire Jet Truck and the Flashfire Dodge Jet Truck. Chris has been involved in motorsports his entire life. He has many years of experience in the Motorsports Promotion business as well. Chris has competed in many different types of racing over the years from drag racing to circle track and beyond. He has literally done it all. Having experience on the production side of motorsport events as well as a performer/competitor in motorsports goes a long way towards making each show a success. Besides driving the Fastest Trucks in the world on the Drag Racing and Air Show circuit, Chris also owns a Truck Accessory Company called 4 Wheel Customs. Chris is now sharing the driving duties with his dad Neal in both the Flash Fire and SHOCKWAVE Jet Trucks.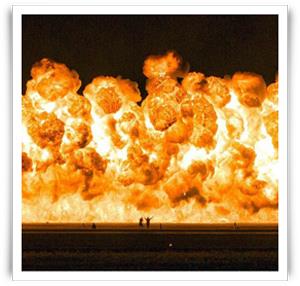 Firewalkers International (http://firewalkersinternationa.com)
Firewalkers International LLC was established in 2013 as the newest Air Show Pyrotechnics Team on the Air Show scene. While being a new team, its' members have a long history and many years of experience providing exciting, loud, HOT and safe Pyrotechnic shows both nationally and worldwide. As former members of Rich's Incredible Pyro, team members have worked closely with some of the most exciting civilian flight demonstration teams, ground shows and military teams from virtually every branch of the service, foreign and domestic. Through the use of high explosives, flammable fuels, and fireworks, the team produces stunning displays choreographed perfectly with flight teams and ground performers with earth shaking high energy results, all in a safe and precisely controlled professional show.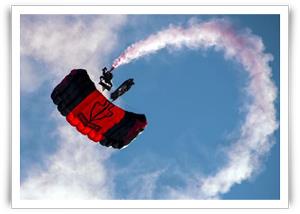 Black Daggers U.S. Army Parachute Team (https://www.facebook.com/blackdaggers)
Their mission is to perform live aerial demonstrations in support of Army special operations community relations and recruiting. Composed of volunteers from throughout Army special operations, the Black Daggers have diverse backgrounds and are skilled in various military specialties including Special Forces, Rangers, civil affairs, psychological operations, and signal and support. With an average age of 33 and an average number of free-fall jumps at 560, the team represents the professionalism and dedication of Army special operations forces.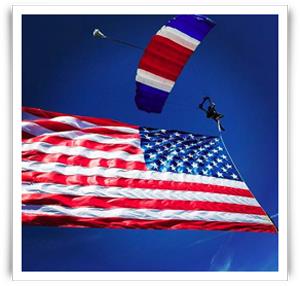 Skydive Suffolk (http://www.skydivesuffolk.com)
Skydive Suffolk is the premier skydiving center in the Virginia Beach area and has been in operation since 1960. The skydiving center is owned and operated by retired Navy EODC Mike Manthey. Skydive Suffolk offers tandem skydives, skydiving lessons, and jumping for experienced licensed skydivers, and is a USPA (United States Parachute Association) Group Member, pledging to adhere to the USPA's Basic Safety Requirements for students and advanced skydivers. In addition to civilian skydiving activities, the facilities at Skydive Suffolk also support skydiving training operations for multiple branches of the United States Armed Forces. Skydive Suffolk and their team of expert parachutist will be performing several Flag Jumps during the show as well as the thrilling Team Suffolk jump, executing precision parachute maneuvers and high energy "swoops" for the crowd.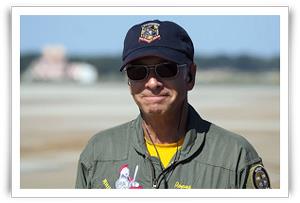 Rob Reider (http://www.robreider.com)
Rob Reider has announced some of the greatest aerial events in North America and loves to share the joy and freedom of flight with all who attend these shows. Rob is a multi-talented air show entertainer, pilot, Midwest television personality, singer, performer, writer, and winner of 5 Emmy awards. All of his experience makes Rob one of the best known announcers in the air show industry. "Narrating a show is a wonderful opportunity to try to put an audience into the cockpit," says Rob "Besides, when I'm announcing, I have the best seat in the house!"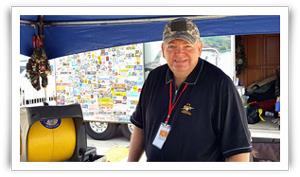 Dan McLaren & Mach 1 Productions (http://www.danmclaren.com)
Since 1988, Mach 1 Productions has provided support for North American Air Show and other special events. Their specially designed sound system provides crisp, clear sound for up to a mile of crowd line. Take your spectators into the cockpit of the aircraft with the air-to-ground interface that allows the performers to talk to the crowd and be heard as though they were listening on the intercom in the back seat.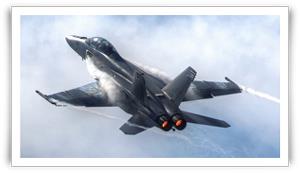 F/A-18F Super Hornet
The Super Hornet Tactical Demonstration, or "Tacdemo" is rapidly becoming world renowned as an awesome display of thrilling high-speed, high "G" maneuvers coupled with heart-stopping slow-speed performance. The crew from the VFA-106 Gladiators will fly this two-seat Strike Fighter as close to the "edge of the envelope" as safely possible while amazing even the most experienced aviators. The Tacdemo highlights the incredible power and grace of the Super Hornet, affectionately known as the "Rhino".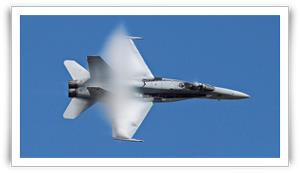 F/A-18C Hornet
The F/A-18C Hornet has been a mainstay of the Navy's tactical striking power since the mid-80's. The Hornet Tacdemo combines eye-watering quickness and agility with remarkable slow-speed handling performance in an aerial demonstration that will thrill and amaze you. This single-seat Strike Fighter was one of the first true multi-use weapons platforms in the Navy and was designed to replace the F-4 Phantom fighter and the A-7 Corsair II strike aircraft. It is now the standard fighter in the Navy and Marine Corps, and is also flown by the U.S. Navy Blue Angels Flight Demonstration Team.
Air Power Demonstration
Watch as Oceana-based Strike Fighter aircraft demonstrate the maneuvers and tactics used to deliver air-to-ground weapons in real-world combat operations. F/A-18C Hornets and F/A-18E/F Super Hornets will fill the skies and crisscross in front of the crowd and they aggressively maneuver for simulated weapons delivery solutions. Twisting and turning to get "pipper on", these intrepid aviators will prove they've got "the right stuff" to deliver diplomacy, 500 pounds at a time!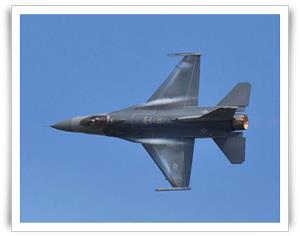 F-16 Fighting Falcon Demo (http://www.acc.af.mil/Home/Aerial-Events/F16-Viper)
The Air Combat Command F-16 Viper Demonstration Team at Shaw AFB, S.C., performs precision aerial maneuvers to demonstrate the unique capabilities by one of the Air Force's premier multi-role fighters, the F-16 Fighting Falcon. The team also works with the Air Force Heritage flight, exhibiting the professional qualities the Air Force develops in the people who fly, maintain and support these aircrafts.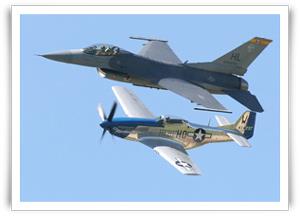 USAF Heritage Flight (http://www.airforceheritageflight.org)
In celebration of the 50th anniversary of the U.S. Air Force (USAF), the Heritage Flight program was founded in 1997. Heritage Flight performances of current fighter/attack aircraft flying with World War II, Korea and Vietnam era fighters dramatically display USAF airpower history and honor the brave men and women who have served, or are currently serving, in the USAF. In 2010, the Air Force Heritage Flight Foundation, a 501(c)(3) non-profit organization, was formed to keep this popular program flying.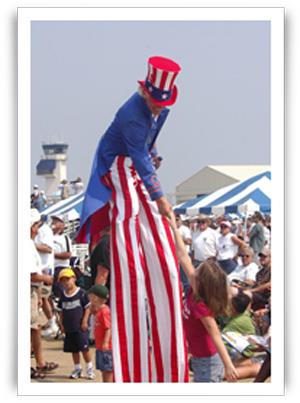 Steve Myott; Uncle Sam on Stilts
Mr. Steve Myott will perform during Saturday and Sundays shows and entertain children and adults alike as he mixes and mingles with the crowd. Steve has appeared in the National Independence Day Parade in Washington D.C, NFL pre-game shows and countless festivals as Uncle Sam on Stilts. As a drama teacher, actor and director he incorporates all his unique talents into theatrical mentoring for young people. Make sure you wave and say hello to this remarkable performer.